About Us

Silver Energy Solutions specializes in providing solar electric systems to residential and commercial customers. We are a full service solution for your solar needs. The process consists of assessing the customer's energy usage and physical ability to install a solar system, informing the customer about their past, present and future energy needs, and finally creating a custom designed solar home or business electric system ready for installation.

Silver Energy Solutions strives to make your solar purchase easier and faster with:
• A FREE in-home/business assessment by a knowledgeable and professional solar consultant
• Competitive pricing
• Highest quality equipment and materials
• A commitment to measuring and delivering top rated customer satisfaction
• A team of experienced and certified installers

Our commitment to quality and customer service on every installation is unparalleled in the solar industry. Currently Silver Energy Solutions is operating throughout all of eastern Pennsylvania and New Jersey. With Your Business - Silver Energy Solutions offers an investment with a rate of return that meets or exceeds the average stock market returns. Additionally, your business is doing its part in being a good neighbor by going green and reducing our dependence on foreign resources – a great marketing tool for the promotion of any company. With Your Residence - Silver Energy Solutions will provide your home with a renewable energy system that lowers your electric bills, increases the value of your home and helps you contribute to decreasing CO2 levels in the atmosphere and foreign dependency.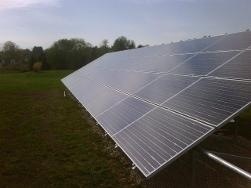 "BE PART OF THE SOLUTION, CALL SILVER ENERGY SOLUTIONS TODAY"